We hope you already understand what is FTP. Well, FTP is a File Transferring Protocol which we use to upload and download our image files into server. Usually we prefer and suggest using FileZilla Client which supports FTP and SFTP both protocol. Please follow the below instructions to understand how to use FileZilla Client to upload and download your images with Cut Out Quick.
To download FileZilla application for Windows or Mac, please follow the separate link bellow.
For Windows: https://cutoutquick.com/download-filezilla-for-windows/
For Mac: https://cutoutquick.com/download-filezilla-for-mac/
Lets learn how to use FileZilla in action to upload & download images.
After install FileZill software on your machine successfully, the outlook will look like the screenshot below. Please look around the sketch and text to understand the fundamental where and what things we need to do to upload and download files from FTP using FileZilla.
FileZilla Screenshot with Basic Introduction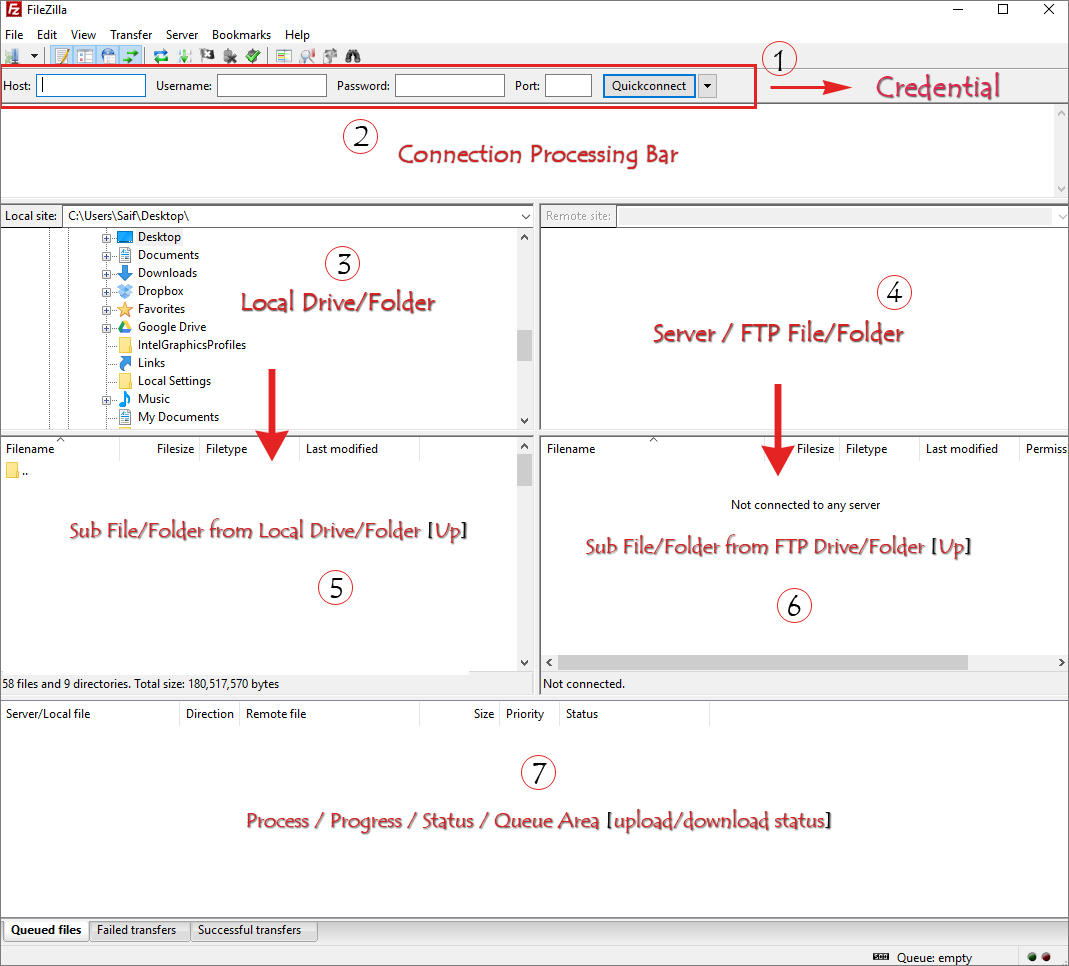 You can see we have marked all the area separately with number circle to describe those more specifically. Please read below direction order to know in details use of those form/area.
    Introduction of FileZilla Interface
Credential: By credential area, you need to fill out our given access details into those fields and need to click on quick connect button.
Connection process: Here you will see the process of connection its connecting or failed.
Local Drive/Folder: Your own local drive explorer tree will show there.
Server/FTP Directory: Folder tree will be shown it this section.
Sub Local File/Folder: You will see all the sub file and folder from selected Local Drive/Folder.
Sub FTP File/Folder: You will see all the file and folder from your selected FTP folder.
Status Bar: Here you will see all the speed and status details of your upload and download, and how much files are in the queue. When all the upload and download process will completed, this section will be empty.
A Brief on How to Use FileZilla to Download/Upload Images
After successfully connect, check your section 3 and 4, Local and Server location, as well as their sub file or folder on bottom separately both of them mean 5 & 6 section. Section 3 & 5 means your local location where from or where to you want to download or upload from. And section 4 & 6 means your FTP directory where to or where from you wants download and upload to.
Now if you right click on local file/folder section(sec no 5), you will see a upload menu on top, that means you can upload that file/folder to the right hand sided FTP location. And same for FTP file/folder(sec 6), if you right-click on a file/folder, you will see the download menu on top. If you click on that, your that file/folder will start downloading to left hand sided sections(sec no 5) local location.
Or you can drag any local file/folder into FTP directory to upload, and you also can drag any FTP file/folder to your any local location to download.
Still Confused and Need More Help?
Please See Our Video Instructions Below.
Still Don't You Think FTP or FileZilla Suit You?
No worries, you can use Dropbox, WeTransfer, HIGHTAIL, Google Drive, AWS or your own server link.